Lutfur Rahman wins Tower Hamlets mayoral election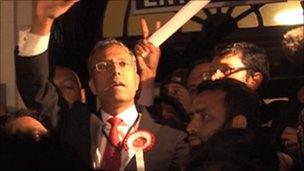 A former leader of Tower Hamlets Council who was dumped by Labour then stood as an independent has been voted in as the borough's new mayor.
Lutfur Rahman secured 51.76% of the vote to become the east London borough's first directly-elected mayor.
Former council leader Mr Rahman was Labour's initial candidate.
But when he was rebuffed by the party he announced he would stand as an independent with several Labour councillors' backing.
"Whatever party you may belong to, whatever community you may belong to, please give me the chance to serve and deliver for the people of Tower Hamlets," said Mr Rahman, following his win in the poll, which had a 25.6% turnout.
Labour's London mayoral candidate Ken Livingstone has risked internal discipline by campaigning for Mr Rahman against the party's new candidate, Helal Abbas.
On Monday, he was seen on the streets of Tower Hamlets campaigning with Mr Rahman.
Mr Livingstone called the deselection of Mr Rahman an "utterly unacceptable" move by the National Executive Committee (NEC), Labour's ruling body, which "ignored the views of the local electorate".
He insisted however that he backed the official candidate and was simply trying to encourage voters to put the independent down as their second choice in an effort to keep out the Conservatives.
Labour deselected Mr Rahman as its party candidate over "serious allegations" over both "the eligibility of participating voters" and Mr Rahman's "conduct", the party said in a statement.
The NEC took the decision last month, even though Mr Rahman was voted in by local members.
Labour said whether Mr Livingstone would be disciplined was "a matter for the NEC".
Mr Abbas launched a bitter attack on Mr Rahman, accusing him of being "in the gutter".
"This is a sad night for those of us who want to build a better future and a united Tower Hamlets.
"Lutfur Rahman has won tonight but not as he wanted, as the Labour candidate," he said in a statement.
"Thankfully, Labour's ruling National Executive had the backbone to stop him from being the Labour candidate.
"We may have lost tonight, but at least the Labour Party has clean hands."
The total number of votes polled for each candidate was:
Helal Uddin Abbas, Labour Party - 11,254
Alan Duffell, Green Party - 2,300
John David Macleod Griffiths, Liberal Democrats - 2,800
Neil Anthony King, Conservative Party - 5,348
Lutfur Rahman, Independent - 23,283
Related Internet Links
The BBC is not responsible for the content of external sites.