Murdered Pc's officer son says pain 'will stay forever'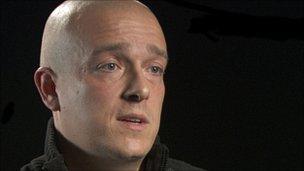 The police officer son of murdered Metropolitan Police Pc Keith Blakelock, who was hacked to death during riots in north London 25 years ago, has joined his family in a renewed appeal for answers.
"Twenty-five years doesn't make the pain go away, it will be with us forever. Justice won't bring our dad back but justice needs to be seen," Lee Blakelock told the BBC's Crimewatch programme.
Following in his father's footsteps, Lee Blakelock is now also a police officer, serving with Durham Constabulary.
He was eight years old when his father was killed.
"Memories, as time goes on, slide away a little bit… but (he was a) very funny, very 'dadsy' dad… really just a fun, rough and tumble dad," he said.
Pc Blakelock and his colleague Pc Richard Coombes were attacked during the Broadwater Farm riots in Tottenham in 1985.
They were trying to protect firefighters when violence spiralled on the estate, sparked by the death of Cynthia Jarrett, 49, who collapsed during a police raid on her home.
His widow, Elizabeth Johnson said: "I know it was the uniform that they were attacking that night, but there was a father and a husband inside that uniform and they killed him.
"He didn't stand a chance. He was armed with just a small truncheon and a shield.
"He was a home beat officer, he wasn't a riot officer. But he was called on to do a duty and he did it and he gave the ultimate sacrifice for doing that."
Lee Blakelock said: "I think that's the hardest thing to come to terms with, not just losing my dad but the way we lost him."
Earlier in October the 25th anniversary of his death was marked with a wreath-laying ceremony held at his memorial stone.
Lee's older brother Kevin Blakelock said the family wanted answers.
"I realise it was a small minority and I have no hatred for anybody living on Broadwater Farm in Tottenham, I just want whoever had done it brought to justice.
"On the night he was there helping the fire service put out fires in a safe way, so he was protecting other emergency services so he wasn't thinking of himself, he was thinking of other people all the time," he said.
Their brother Mark Blakelock said it was their last chance to get closure: "The reason as a family we have decided to speak for the first time collectively is because we realise that this is probably our last opportunity to get what we want, which is a conviction for what happened to dad.
"People might think that over time that might lessen but actually it becomes more frustrating as a family, especially when you see cases today which get solved very quickly, 25 years down the line and we still don't know who killed dad."
Ten people have been arrested this year as part of the investigation into Pc Blakelock's murder and have been released on bail.
Police said they have begun to "build a clear picture" of what happened the night Pc Blakelock died.
All of those held were in the north London area at the time of the Broadwater Farm riots in 1985.
Three men had been convicted of the killing but were later acquitted.
Winston Silcott, Mark Braithwaite and Engin Raghip were imprisoned in 1987 but cleared on appeal four years later.
Three youths were also charged with murder but did not face trial after a judge ruled that their questioning was inadmissible.
Watch the full report into Pc Blakelock's death and the family's appeal on BBC One's Crimewatch at 2100 BST on Tuesday 26 October or watch it again on BBC iPlayer.