Westminster Council in Westco 'profit for bonus' row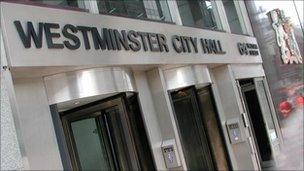 A London council set up a private company using public money and drew up plans allowing it to split 25% of its profits between staff, BBC London has learned.
Under the Local Government Act 2003, all authorities were allowed to set up trading companies.
The idea was that profits would be pumped back into front-line services for residents.
In 2007, Conservative-run Westminster Council set up Westco, a private company registered to its Town Hall address.
It sells communications advice to Harrow, Basildon and Leicestershire councils.
But the BBC has obtained a document written last year detailing the possibility of splitting a quarter of its profits between the organisation's 10 staff.
While Westminster Council stressed it had not paid Westco staff bonuses, the document, by the council's director of finance Pete Carpenter, and entitled Westco Incentive Scheme, states: "The minutes of the committee meeting agreed the principle of making a bonus payment of 25% of profits.
"The incentive will be based on 25% of the profit before tax.
"The payment will be made to the department and it is their decision whether to pay this as a bonus to the staff or reinvest in their service."
The BBC saw a copy of Westco's accounts for the tax year 2009/2010 which show a payment of £45,110 was made under the heading "Incentive scheme".
The council insists this money was not paid to employees as bonuses, and instead used on training.
But Councillor Paul Dimoldenberg, leader of Westminster Labour Party, said: "Residents will be asking how they could even contemplate giving 25% of the profit of this council-owned company to a few already very highly paid council staff.
"The activities of Westco have remained a closely guarded secret.
"Opposition councillors have little knowledge of the goings on of this company, and it's no surprise there is confusion as to its precise activities."
Westco has no website and inquiries from the public about its nature have been regularly turned down.
The disclosure comes as councils across the country digest a massive cut in funding from central government following the Spending Review.
Councils are having funding slashed by 26% over four years, leading to job losses and cuts in services.
Communities and Local Government Minister Eric Pickles is believed to favour councils using profits from private companies to plug the shortfall, Simon Parker of the New Local Government Network (NLGN) said.
Nigel Keohane, of the NLGN, said running companies allowed councils to "generate income for their localities".
He added: "This latter point is obviously becoming increasingly important with the reduction in central government grant."
Westminster was already grappling with a £22m overspend even before the funding cut.
Emma Boon, campaign manager at pressure group the Taxpayers' Alliance, said: "It's scandalous Westco have established a facility to potentially divert profit away from services to line the pockets of their own staff.
"Even if the bonuses were not paid this year there is nothing to stop any future payments being made now that this facility exists.
"This will anger taxpayers at a time when they face being on the receiving end of spending cuts at Westminster Council, which set up the company."
Explaining why councils are allowed to set up private companies, Andy Sawford, of the think-tank the Local Government Information Unit, said: "The critical thing is they have to use their profits in an appropriate way, not paying substantial bonuses.
"There are no simple rights and wrongs. The only test is whether it's in the interest of the taxpayer."
None of the other 31 London councils contacted by the BBC had a similar scheme.
Westminster Council insists it was never their intention to pay bonuses to Westco staff.
After being contacted by the BBC, the authority said it would be "re-writing the wording" of the policy so it would not allow bonuses to be paid.
Councillor Melvyn Caplan, chairman of Westco, said: "We do not pay staff bonuses through Westco or at Westminster Council.
'Eliminate misunderstandings'
"The majority of any surplus generated from our trading company Westco is ploughed straight back into council services while a portion is set aside for staff training and development.
"We will be rewriting the wording of this policy to make sure it is completely clear and to eliminate any further misunderstandings on this issue."
It is not the first time Westminster Council has faced criticism over financial decisions.
In May there were calls for an inquiry after it emerged a hedge fund owned by council leader Colin Barrow went bust, owing the authority almost £20,000 in unpaid business rates.
BBC London learned Councillor Barrow, who has £350,000 invested in another fund, refused to reimburse his own council for its losses.
And in January it emerged the council investigated how it could make more profit from parking enforcement, an apparent breach of the law.
Related Internet Links
The BBC is not responsible for the content of external sites.