Plaque marks John Lennon and Yoko Ono's Marylebone home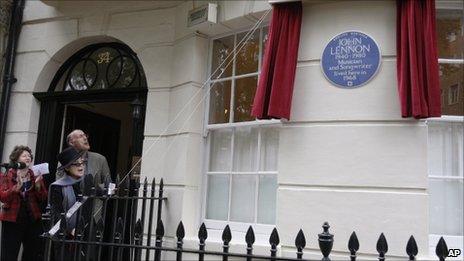 Yoko Ono, the widow of the Beatles star John Lennon, has unveiled an English Heritage blue plaque at the first home the couple shared in London.
The pair occupied the basement and ground floor of the property at 34 Montagu Square in Marylebone in 1968.
During their stay a nude photograph of the couple was taken which formed the cover of the Two Virgins album.
The property was first bought by Ringo Starr in 1965, before being rented out to Paul McCartney and Jimi Hendrix.
Lennon and Ono moved in to the grade II listed flat after Hendrix in the latter half of 1968.
During their stay at the flat Lennon, who would have turned 70 on 9 October, worked on The Beatles' White Album and on collaborations with his Japanese wife.
It was also the address where Lennon and Ono were arrested for possession of cannabis resin on 18 October 1968.
On 28 November Lennon appeared at Marylebone Magistrates' Court, admitted possession and was fined £150. Charges against Ono were dropped.
Ono said: "I am very honoured to unveil this blue plaque and thank English Heritage for honouring John in this way.
"This particular flat has many memories for me and is a very interesting part of our history.
"In what would have been John's 70th year, I am grateful to you all for commemorating John and this particular part of his London life, one which spawned so much of his great music and great art."
Mark Lewisohn, Beatles historian, said: "The period in 1968 when John and Yoko lived at 34 Montagu Square was full of incident and interest, and it's fitting that John's occupancy should be marked in the month he would have turned 70.
"With two other Beatles and Jimi Hendrix also living here in the space of three eventful years, it's hard to think of any other London flat that better embodies the enduring fascination with that period."
Lennon had lived in several addresses in the surrounding area between 1963 and 1971, but the pair spent most of their time in the capital in the Montagu Square home.
The singer was shot dead in New York City in 1980.
Related Internet Links
The BBC is not responsible for the content of external sites.