Passengers face delays by Tube line suspension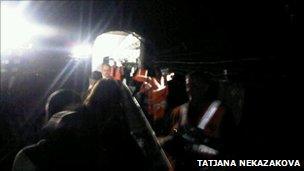 A Tube line to the City used by more than 30,000 passengers a day has been suspended due to signal problems.
The 1.5 mile long Waterloo and City Line has been suspended due to a signal failure at Waterloo.
The disruptions come after passengers had to walk through tunnels after being stuck in broken down trains on Victoria and Jubilee Lines last week.
Transport for London said "emergency repairs" were being carried out and it expected service to resume soon.
The signal problems come as maintenance staff with the Rail Maritime and Transport (RMT) plan to work-to-rule from midnight in a row over planned job cuts on the network.
The Waterloo and City Line experienced delays last Friday due to flooding.
A TfL spokesman said: "The Waterloo & City line has been suspended this morning due to a signal failure at Waterloo.
"London Underground's engineers are on site and replacing defective parts and we expect normal service to resume on the line shortly.
"We would like to apologise to customers who have been inconvenienced by these vital emergency repairs."
The RMT claimed disruptions caused by broken down trains was the result of an ongoing overtime ban by maintenance workers. But London Underground had denied the union's claims.
Related Internet Links
The BBC is not responsible for the content of external sites.