London Probation Trust's risk assessments 'inadequate'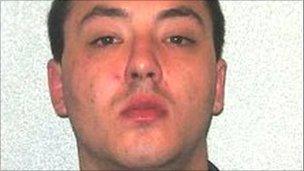 London's probation service is not conducting adequate risk assessments in half of its cases, a report has found.
The service was severely criticised after two French students were murdered by a man who had wrongly been bailed.
The Chief Inspector of Probation found risk assessments of criminals were rated good enough in just 52% of cases.
Overall the London Probation Trust (LPT) was found to be "getting there", with 74% of all work assessed rated satisfactory - up from 54% last year.
A spokeswoman for the charity Victim Support said: "It is vitally important that the improvements are built on.
"Victims of crime want security and the confidence that the relevant agencies will work effectively to stop a crime from happening again."
But a spokesperson for the LPT said the results were very encouraging and "although we have taken major strides we are not complacent".
"However, the fact that the report does not make any recommendations is a testament to how far we have come over the last year and that we are on the right track with regards to our work practices."
The report follows up on a review commissioned in 2009 by then Justice Secretary Jack Straw after the sentencing of Dano Sonnex for the murders of Laurent Bonomo and Gabriel Ferez.
At the time of the murders, in New Cross a year previously, Sonnex had been under the supervision of the Probation Service.
Andrew Bridges, chief inspector of probation, said: "Much more often than last year, the work we inspected this year has been done well enough and on time.
"As always, there is nevertheless room for further improvement - for example, many assessments and plans still required more precision and detail.
"Last year we concluded that their journey towards improving public protection practice had 'stalled', this year we have found positive evidence that their practice is 'getting there now'."
The probation service is also responsible for monitoring offenders, organising regular meetings between offenders and probation officers, imposing curfews, as well as assisting offenders back into employment and with housing and medical needs.
As part of the inspection, 280 cases were examined across London over two separate weeks in July.
Justice Minister Crispin Blunt said congratulated London Probation Trust for its "considerable progress".
Harry Fletcher, assistant general secretary of the probation union Napo, said: "The report clearly notes that there has been an improvement in timely risk assessments.
"This is an achievement at a time when resources have been falling and workloads rising and the report must be read in this context."
Related Internet Links
The BBC is not responsible for the content of external sites.