Woman raped in Kent in 1986 hails advances in DNA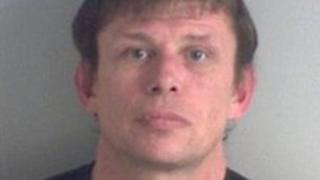 A woman who was raped at knifepoint in Kent has said advances in forensic science are giving other victims more hope that justice will be done.
Liz, which is not her real name, was attacked by Paul Dyne in Deal in 1986 when she was 18.
Dyne, 45, of New Malden, south-west London, was jailed for eight years in July after police re-examined DNA.
Speaking to BBC Radio Kent, Liz said rapists, not the victims, were now the ones who should be afraid.
"There's probably a lot of women out there just like me who've spent years being afraid, looking over their shoulder... it's a horrible way to live," she said.
"And now, with these cold case teams, the tables seem to have turned because there are offenders out there and they're the ones that are going to be scared right now and they're looking over their shoulder because they're going to be caught."
On the evening of the attack in February 1986, Liz had gone to buy milk at a local shop in Deal when she felt a gloved hand placed over her mouth.
She was dragged to waste ground in Ark Lane where Dyne told her he had a knife before covering her eyes with a scarf and raping her.
Officers investigated the attack but no-one was charged until last year.
Dyne was held at his home on 22 December and was charged later the same day.
'Lost hope'
Dyne admitted the crime at a court hearing in May, and was sentenced in July.
The judge ordered that he be placed on the sex offenders' register for life.
DNA had been re-examined and identified as a one in a billion match with his profile, police said.
Recalling the moment when officers told her they had found the rapist, Liz said: "It made it all the more real for me, knowing his name and who he was."
She added: "I would say to other women... have some hope because I didn't have any hope.
"For 24 years I'd lost hope that this man was ever going to be punished."