London firms 'lose confidence' despite economy growth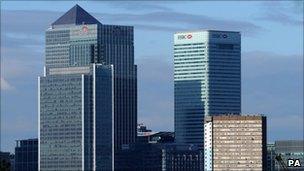 Businesses in London are losing confidence, a survey has suggested.
The London Chamber of Commerce and Industry (LCCI) surveyed 142 companies across the city.
It found just 22% of firms expect sales to rise, down from 43% earlier in the year. It means more companies expect sales to fall than rise.
LCCI chief executive Colin Stanbridge said: "After several quarters of growth, London's economy seems to have taken a turn for the worse."
The survey also found those expecting their turnover to rise fell from 64% earlier in the year to 57%.
It suggested firms expecting an increase in profits fell from 56% to 44%.
Mr Stanbridge continued: "The outlook for the capital's businesses is looking increasingly uncertain.
"The cut backs in public sector services will undoubtedly impact on business confidence.
"But most employers still support the government's bid to cut the deficit to ensure the UK's long term economic viability."
The LCCI's warning came as figures showed the UK's economy has grown faster than expected in the last three months.
It grew at 0.8% between July and September, double the 0.4% expected by analysts.
Meanwhile rating agency Standard and Poor has upgraded its outlook for the UK's triple-A credit rating.
Related Internet Links
The BBC is not responsible for the content of external sites.