Men jailed for kidnap and manslaughter in Forest Gate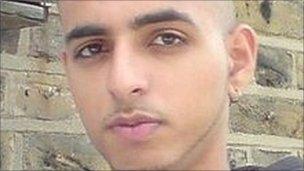 Two men have been jailed for kidnapping and killing a man in east London.
Vikar Khan, 23, of Walthamstow, east London, and Blaize Lunkulu, 25, from Tottenham, north London, admitted abduction and manslaughter.
Their victim, Syed Abbass, was walking home in Forest Gate in September 2009 when he was grabbed, beaten and dragged into a car, which was driven off.
The 24-year-old was found partially-clothed on wasteland in East Ham, and died of head injuries the next day.
Khan was jailed for nine years after pleading guilty to manslaughter, kidnap and perverting the course of justice.
Lunkulu was given an indeterminate sentence, to serve a minimum of six years and four months, after admitting the same offences.
One count of burglary is to lie on Lunkulu's file.
The pair targeted Mr Abbass because he was believed to be carrying cash and drugs, said Det Insp David Whellams of the Metropolitan Police.
"Fuelled by greed and envy, the defendants launched a pre-planned brutal attack in the hope they could make some easy money," he added.
"The reality was very different. As a direct result of their actions, a family has lost a son and brother and no custodial sentence can compensate for that."
Two other men who were arrested over the crime were later released without charged.
Related Internet Links
The BBC is not responsible for the content of external sites.