Barnet FC angry at Saracens talks over Copthall Stadium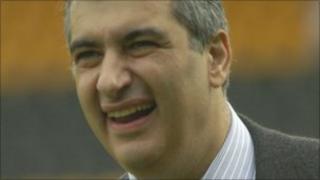 Barnet Football Club has criticised a council for holding talks with Saracens rugby club over a possible relocation to Copthall Stadium in north London.
The League Two side has been trying to leave its Underhill home for a decade, with the athletics venue the preferred new base.
The club's chairman, Tony Kleanthous, said it was "quite a blow" to learn Saracens could move there instead.
But Barnet Council's leader said she was "totally supportive" of Barnet FC.
Saracens have had initial talks with the local authority about the venue in Mill Hill but a spokesman said this was one of "probably 30 or 40" options which they had considered "in the past two years".
Lack of space
But Mr Kleanthous said that if the council was "supporting and looking favourably on the Saracens proposal, it sends out a straightforward and clear message to our football club that they would prefer having them in the borough, rather than us".
"It's sad that they are now looking to invite others into the borough whilst escorting us out via the back door," he told his club's website.
Barnet views Underhill as ageing and hampered by lack of space.
Barnet Council leader Lynn Hillan said she was "disappointed" by Mr Kleanthous's remarks.
"Barnet FC's proposals for Copthall Stadium were approved by the council's planning committee but overturned by the then Secretary of State," she said, referring to a plan for a 10,000-seat stadium in 2001, which was rejected by then Deputy Prime Minister John Prescott.
"We took it as far as we could," she added.
"I am totally supportive of the football team and to keeping the club in the borough, but it is up to Tony to make a proposal."
But Mr Kleanthous said: "We were asked to give the council time to find a solution to our relocation needs and not to put in a further plan for Copthall, although it was made clear to us that if anyone was to build anything on the site, it would be Barnet FC.
"We did as asked and have remained silent on the issue for some five years now and have made no waves."
A spokesman for Saracens - who play at Vicarage Road in Watford - said they would "move forward" whenever "any discussions come anywhere near a formal level".
"There are a whole range of options that we are looking at," he added.