Parliament seeks docking station for London bike-hire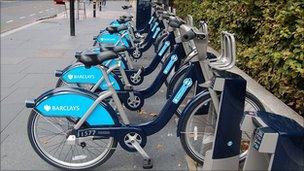 A docking station for London's bike-hire scheme is being considered close to Parliament in central London.
Lord Brabazon, the chairman of committees at Westminster, said he was "hopeful" a site could be found "for the convenience of the members of this House and their staff".
Bikes were already located at Smith Square, but this was about 10 minutes' walk away, the peer said.
Parliamentary authorities were talking to Transport for London, he added.
"While we cannot permit a station for public use in the secure area of the estate, we are considering whether an alternative location can be found outside the secure area."
The scheme began in central London in July.
Registered members can hire bikes for free for up to 30 minutes, or pay a rising scale of prices for longer periods.
Related Internet Links
The BBC is not responsible for the content of external sites.