Millionaire jailed for shooting ex-wife in Finchley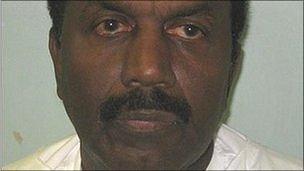 A millionaire who tried to kill his ex-wife in north London fearing she would try to claim some of his fortune, has been jailed indefinitely, with a minimum term of 12-and-a-half years.
Ronald Seymour, 70, shot Sonia Delvaille three times in the head near his home in Finchley in February.
The 66-year-old survived as only one bullet entered her brain.
The couple had been due in court the following day to negotiate a financial settlement.
Their joint fortune was valued at £3m, with Seymour running nightclubs in the West End and owning four houses.
But after his arrest, he told police his wife had wanted to "take everything" from him.
They had been together for 40 years and had continued to live together after their divorce in 1996.
Seymour was convicted of attempted murder last month.
Judge Anthony Leonard said Seymour had been responsible for a "long and wicked crusade of violence against a person who loved you" and warned that he may be in prison for the rest of his life.
"In considering the sentence, I have had in mind that there is a long history of violence to Miss Delvaille, which she suffered in silence," he said at Southwark Crown Court.
"This was not just a spur-of-the-moment loss of temper.
"It was sheer luck that she survived being shot in the head three times. It is sheer luck you were not being tried for murder."
The family of Miss Delvaille - who now requires 24-hour care - said in a statement that before the shooting, she had "loved life" and was "very active".
"We are lucky to have a strong, close family but Ronald Seymour's actions mean that Sonia's and our lives have changed forever."
Related Internet Links
The BBC is not responsible for the content of external sites.