Met chief Sir Paul Stephenson 'trying to con' public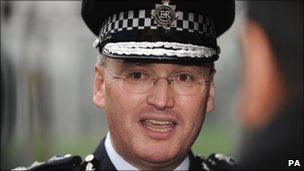 A Metropolitan Police Authority (MPA) member has accused Commissioner Sir Paul Stephenson of "trying to con" the public over the impact of cuts.
Liberal Democrat Dee Doocey said it was "blindingly clear" that decisions had already been made regarding changes to safer neighbourhood policing in London.
Sir Paul said the future of the teams was not "pickled in aspic" and their structure was being reviewed.
There are 624 safer neighbourhood teams in London.
Sir Paul stressed he would try to maintain the "operational capability" of the teams.
The Met's budget will be affected by the 4% cut in Ministry of Justice spending on policing each year for the next four years.
The teams are made up of one sergeant, two constables and three community support officers, who deal with issues raised by local residents.
Impact 'blindingly clear'
Recently, in a letter to councillors, Barnet borough commander Det Ch Supt Neil Basu said the cuts meant teams may shrink in size and that police station front counters could close.
He also said the neighbourhood units could be asked to work across ward and borough boundaries.
Mrs Doocey told Sir Paul: "Frankly I think you are trying to con us commissioner, I really do.
"It is absolutely blindingly clear that these changes, a lot of them, have already been decided upon."
Sir Paul said the funding cuts would not be an "excuse" to "walk away" from safer neighbourhood units.
He said: "There is no attempt to con or mislead anybody, certainly not this authority, and we need to have a thorough consultation.
"The one thing we should not do is throw away the benefits of this programme that we have had over a number of years and I will not do that."
Mrs Doocey later apologised after she was admonished by the MPA chairman Kit Malthouse for using "unparliamentary language".
Earlier, Sir Paul said that overall the Spending Review had been "slightly better than we were anticipating".
Related Internet Links
The BBC is not responsible for the content of external sites.