Riot police tackle 'illegal' rave in High Holborn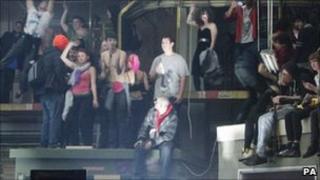 Hundreds of people have been attending a suspected illegal rave in central London after a stand-off between revellers and riot police.
Several officers were hurt trying to disperse the gathering at a disused building in High Holborn, police said. Eight arrests have been made.
The Metropolitan Police were first called to the building at 2320 BST on Saturday.
The last of the revellers left the building at 1630 GMT on Sunday.
The Metropolitan Police said bricks were thrown at officers as they tried to disperse revellers at the building which is bordered by High Holborn, Museum Street and New Oxford Street.
Halloween costumes
Elements of the estimated crowd of about 500 people at the eight-storey building became aggressive after officers asked them to move on, police said.
Dozens of riot squad officers were then called to the scene.
One police officer needed hospital treatment for a minor head injury, while a woman in her 30s, who police said was caught up in the disorder, was also taken to hospital with a cut face.
A number of buildings and vehicles were damaged during the disturbance and road closures were put in place around the site.
Daniel Sheridan, who was walking through the area, said he was shocked by what he saw.
"We witnessed a police van with smashed windows and large areas were cordoned off," he said.
"We saw lots of student types, one who had fallen over and had a massive gash in his head...
"And another case of a girl so drunk she couldn't move."
Hundreds of revellers spilled out onto New Oxford Street, some dressed in Halloween costumes.
Two clubbers at the event, both originally from Brazil, had tried to have their photo taken with police and said the atmosphere at such events was always good.
Flavia Pickler, 28, who came on the train from Brighton where she works as a nanny, was dressed as a toffee apple.
"It's very friendly, you can trust people," she said.
Samanta Coletti, 27, a waitress living in west London, said: "We love it. You never find fights, if someone is stealing or harassing girls they are told to leave, you can leave your bag on the floor and dance."