Colin Jackson praises 2012 Olympics scheme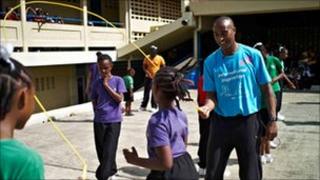 Olympic medallist Colin Jackson has visited schoolchildren in north London to celebrate London 2012's International Inspiration programme.
International Inspiration hopes to use sport to enrich the lives of millions of children in 20 countries worldwide.
Mr Jackson has just returned from seeing it at work in Trinidad and Tobago. Five Haringey schools have been twinned with schools there.
He said the programme helped youngsters there "flourish".
Mr Jackson told the Haringey youngsters: "I lost count of the number of young people I met who are benefiting from the programme and embracing sport.
"In Trinidad and Tobago the programme is a fantastic way of engaging youngsters and keeping them safe by communicating important messages around HIV and drugs.
"It was clear from all the children I met how the programme has benefited them, helping them to flourish within a school environment."
Abigail, a pupil at Hornsey School for Girls, said: "Having an athlete like Colin Jackson visiting our school is really exciting - especially as he can tell us about his experience in Trinidad and Tobago with our link school.
"Through our link with Speyside School in Tobago we have learnt about leadership skills, conflict resolution and how to work as a team."
Seb Coe, chairman of the London Organising Committee of the Olympic Games and Paralympic Games said: "I was lucky enough to see for myself the difference International Inspiration is making to children and young people's lives when I went to India last year to see some projects.
"Our vision is to reach young people around the world and connect them to the inspirational power of the games."