Student Martine Vik Magnussen unlawfully killed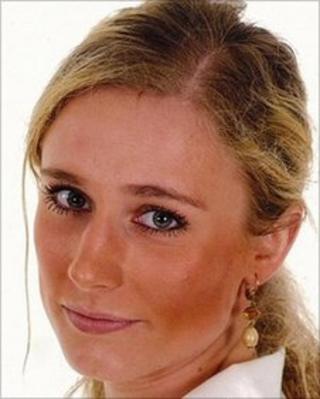 A Norwegian student whose semi-naked body was found buried under a pile of rubble in central London was unlawfully killed, an inquest has ruled.
Martine Vik Magnussen, 23, was murdered after a night out in Mayfair in 2008.
The inquest at Westminster Coroners Court heard she had been strangled and had tried to fight off her attacker.
The court heard she was last seen leaving a nightclub with prime suspect Farouk Abdulhak, who remains in hiding in his native Yemen.
Yemen refuses to extradite its citizens, so the 23-year-old billionaire can only face justice if he gives himself up.
'Filled with brutality'
Forensic pathologist Dr Nathaniel Carey said the victim, who had been drinking and had taken cocaine, had suffered multiple injuries.
He said abrasions found across her head, neck and face, as well as her body, had been inflicted as she fought off an attacker.
Speaking outside the inquest, her father Odd Petter labelled the hearing "a room filled with brutality".
He said: "We all think that this sort of cross-border crime has to be resolved politically in the long term. I sincerely hope it will.
"But I appeal to the suspect here to put himself before the British authorities, to have his case tried, so my family and I can get on with our lives as best we can."
Miss Magnussen was last seen leaving the Maddox nightclub with Mr Abdulhak, where she had been celebrating end of term exams, on 14 March.
After her friends reported her missing, officers broke down a padlocked door in the Great Portland Street block of flats where Mr Abdulhak lived.
The inquest heard their suspicions were aroused when officers found an item of clothing she had been wearing in his flat.
Pc James Tauber, who knocked the basement door down, said he had found her body after spotting an arm sticking out of a pile of building rubble.
Det Insp Richard Ambrose told the court Mr Abdulhak had fled the country within 14 hours of Miss Magnussen going missing.
Mr Abdulhak, whose father is billionaire businessman Shaher Abdulhak, founder of Shaher Trading, is believed to be in the remote village of Thaba Abous in southern Yemen.
Recording a verdict of unlawful killing, coroner Dr Paul Knapman said Miss Magnussen had died from "compression to the neck", which could mean she had been strangled or smothered.
Miss Magnussen's family are considering whether to bring a civil compensation case against the Abdulhak family for damages.