Anger over loss of trees for Bomber Command memorial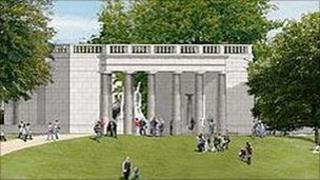 The destruction of nine ancient trees to make way for a World War II memorial in a London park has been criticised by a charity.
Trees for Cities said the Bomber Command memorial would see trees more than a century old destroyed and said it should be put somewhere else.
Building work on the open-air pavilion in Green Park will begin in January.
Councillor Alastair Moss, of Westminster Council, said the loss of trees would be kept to a minimum.
Sharon Johnson, Chief Executive of Trees for Cities, said: "The ancient trees of Green Park are of immense value to the city.
"The park is an essential breathing space for Westminster which improves the health and wellbeing of residents and workers.
"We appreciate the need for a memorial to the huge sacrifice World War II airmen made, but we urge the proposers of the memorial to consider alternative sites where the local environment will not suffer."
'Fitting tribute'
Mr Moss, chairman of Westminster Council's planning committee, said: "Whilst the loss of any tree is regrettable, this has been kept to an absolute minimum and not only will all trees removed be replaced, there will be a total of 25 semi-mature trees planted to replace the nine removed.
"The memorial itself will actually complement the beauty of the park and will serve as a fitting tribute to the sacrifice of the 55,000 members of Bomber Command who lost their lives."
The RAF Bomber Command Association Memorial Fundraising Committee is close to its target of £5.5m.
The 8.5m-tall (27.9ft) pavilion in Green Park will pay tribute to the 55,573 crew members who lost their lives.
Donations were received from, among others, the Polish Air Force and people in Australia, Holland and New Zealand.
The Bomber Command Association and the Heritage Foundation has campaigned for three years to have a permanent memorial.
The pavilion is expected to be completed by early 2012 but campaigners have asked for more donations which will go into a fund to maintain the memorial.
Bomber Command's role was to attack Germany's air bases, troops, shipping and industrial complexes connected to the war effort.