Australian Big Ben Ashes stunt will not be prosecuted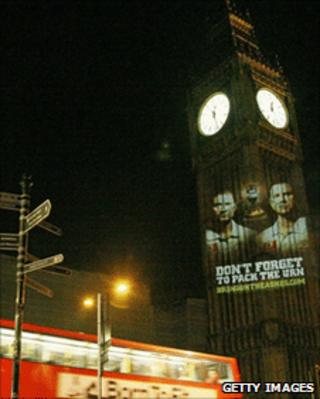 Cricket Australia has escaped prosecution for projecting a taunting slogan on to Big Ben after promising not to repeat the provocation.
The Australians struck ahead of the first Ashes test when the image of cricketers Ricky Ponting and Michael Clarke were beamed on to the tower.
A message for the England team read: "Don't forget to pack the urn."
But after being threatened with legal action, the Australians have promised no repeat.
Westminster City Council had warned projecting anything on to the Unesco World Heritage site could breach the Town and Country Planning Act.
'Good humour'
After the local authority said it was considering prosecution, a letter on behalf of Cricket Australia promised: "I undertake that Cricket Australia will not display any advertisements within the City of Westminster without the prior consent of the council."
Westminster City Council's deputy leader, Councillor Robert Davis, said: "It would not be in the public interest to pursue legal action on this occasion, but I hope it serves as a warning to all organisations as next time we will not be inclined to be so lenient.
"Whilst I accept that Cricket Australia's stunt was supposed to be in good humour, it really is no excuse for breaking the laws of the land.
"That is the end of the matter as far as we're concerned, and we wish them well in the Ashes, although we will of course be supporting England."
During the last Ashes on Australian soil an image of English cricketers was beamed on to Sydney Harbour Bridge by Sky Sports.
England got off to a poor start on the first day of the current series, being bowled out for 260 having elected to bat.