Man jailed for shooting two brothers in Croydon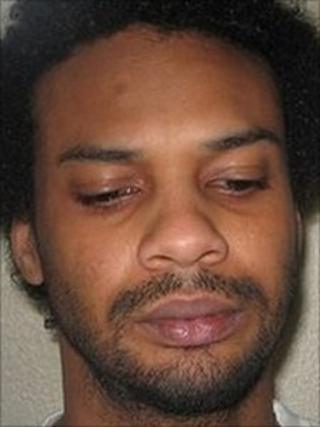 A man has been jailed for at least 37 years for shooting two brothers in the head, killing one of them, after being thrown out of a south London pub.
Saturday Hassan, 30, of Sydenham, shot Darren and Junior Deslandes after being evicted from a new year party at the Newton Arms, Croydon.
Darren Deslandes died but his brother made a "miraculous" recovery despite having three bullets in his head.
Hassan was convicted of murder and attempted murder at the Old Bailey.
But he was cleared of the attempted murder of the brothers' 58-year-old father, Wintworth Deslandes, who owned the pub.
The attacks happened during "10 seconds of devastation", the court heard.
Hassan claimed the shooting had been an accident as he was defending himself, however, and denied shooting at Wintworth.
'Gangster trappings'
Junior Deslandes, 26, was shot five times, with one bullet staying embedded in his skull and two others remaining in his jaw.
Doctors said it was too dangerous to remove these three bullets.
He has scars from where two other shells brushed his head.
At first he lost the ability to talk, and doctors thought he would never walk again, but he was able to attend court to testify.
Edward Brown QC, prosecuting, said it was "miraculous" that he had survived.
Junior's father said Hassan had "aimed for their heads" and "didn't stop until there weren't any bullets left".
"He just wanted to kill," he added, describing it as "awful" and "just like something you see in a Western film - not something you see in your own home".
The brothers' mother and younger brother also witnessed the shootings.
Judge David Paget said Hassan had devastated the Deslandes family physically, mentally and financially.
Some of Hassan's possessions had shown "the trappings of a gangster", he said.
"You appear to be someone who admires that style of life."