Prayers and awards mark Damilola Taylor's anniversary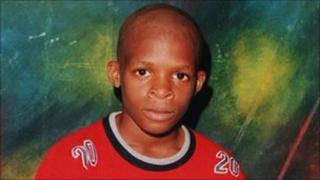 Prayers by family and friends and an award ceremony will mark the 10th anniversary of the death of Damilola Taylor, who was killed in south London.
Damilola, 10, was returning home when he was stabbed in the thigh with a broken beer bottle in Peckham in 2000.
Brothers Ricky and Danny Preddie, now aged 23 and 22, were jailed for eight years for manslaughter in 2006.
Damilola's father Richard Taylor said the Spirit of London Award, held later in Greenwich, will be his son's legacy.
Mr Taylor and London Mayor Boris Johnson will give the awards at the O2 in south-east London.
Damilola's legacy
Damilola's family had come to the UK from Nigeria a few months before his death, in search of a better life.
The boy, who was stabbed on his way home from a library, bled to death in a concrete stairwell in Peckham.
In September, one of Damilola's killers - Ricky Preddie - was released after serving two-thirds of his sentence, including time spent in custody on remand.
Damilola's mother, Gloria, 57, died from a suspected heart attack in April 2008.
Mr Taylor said: "We will be praying at the cemetery as usual and then we will have the big event at the O2 to mark the 10th anniversary and the Spirit of London Award, which is (the) legacy we want to leave in the memory of Damilola."
Earlier Mr Taylor, who has been campaigning against youth crime in London since Damilola's death, said: "I'm really impressed with all the good things that have started coming up as a result of what happened to my son."
The award ceremony, in its second year, was developed with the Damilola Taylor Trust with the aim of recognising the achievements of the capital's young people.
Gary Trowsdale, from the trust, said: "Damilola's legacy is enshrined in these awards. We are honouring the type of person he was turning into."
Mr Johnson said: "The whole nation mourned the tragic loss of Damilola and it is astonishing to think that 10 years have passed since the shocking (killing) of this bright, young child.
"His father Richard Taylor has worked tirelessly to help tackle youth crime and steer troubled kids away from violence."