City of London approves Billingsgate fish market change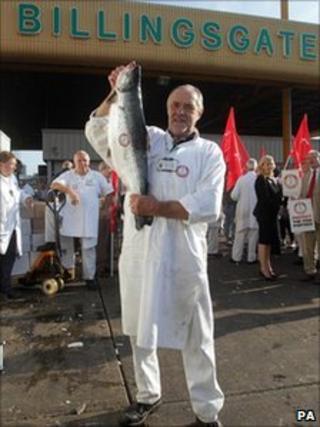 Changes to the running of Billingsgate fish market in east London have been approved, despite a 20,000-signature petition against the proposals.
The City of London Corporation promised to scrap "outdated" bylaws, some from 1876, which include a requirement for about 120 porters to be licensed.
The Unite union argued the licensing system was needed to protect the market's standards and porters' jobs.
Otherwise the market may become "a large cash-and-carry", it warned.
The porters transport fish around the market and are employed by merchants on a flat rate of pay.
They top up their wages through a scheme known as a "bobbin", where customers pay an additional fee based on the amount of fish which is moved for them.
The corporation - which also owns and runs Leadenhall, Smithfield and Spitalfields markets - said nobody had made "a coherent business case to licence only 20% of the Billingsgate workforce".
'Brand undermined'
It said the changes had been backed by the London Fish Merchants' Association.
And Mark Boleat, chairman of the markets committee at the City of London, said the bylaws were "not needed in modern markets".
He said: "It now paves the way for the union and the porters' employers to begin productive negotiations about modernising working practices."
But Unite has accused the corporation of "under-valuing and undermining the Billingsgate brand".
It said the porters provided a "highly-skilled and very personal service" at the market, which began in 1327.
Removing the licences would jeopardise the fixed rate of pay and the high standards required of porters, it added, and could lead to them being replaced by cheaper casual employees.