Cycle superhighways 'missing goal' in London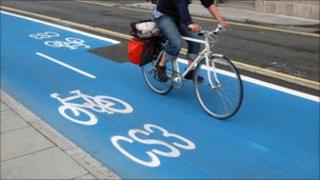 So-called cycle superhighways in London may not be achieving their goals, a report has warned.
In May the first of 12 cycle lanes opened, one from south Wimbledon to Bank and Barking to Tower Hill.
But more than half of respondents to a London Assembly survey said the routes did not make them feel safer. Many users said lanes were too small.
Transport for London, which operates the lanes, said cycling numbers had increased by 25% on the pilot routes.
'Clear lessons'
The superhighways were launched by mayor Boris Johnson, who hoped they would increase the number of bike journeys by 120,000 per day.
But the survey suggested 1% said the scheme had made them start cycling.
"There are clear lessons that can and should be learned from the superhighway pilot schemes before we can be sure they are delivering on their objectives and are an effective use of scarce resources," said Val Shawcross, who chairs the assembly's transport committee.
But she was more positive about the mayor's bike hire scheme, which has attracted 100,000 users since it began in July.
"There is no doubt the cycle hire scheme has been embraced by Londoners and is delivering value for money for the user," Ms Shawcross said.
TfL said the superhighways gave cyclists clearly marked, direct and continuous cycle routes into central London and played a key part of the mayor's commitment to stimulating a "cycling revolution" in the capital.
It said its own research found more than 70% of people said the cycle superhighway roadside mirrors had made them feel safer.
And 61% of people said the blue-coloured cycle lanes improved cycle safety along the routes, it said.
A further 10 routes are due to be opened by 2015.