Jury retires in Geeta Aulakh machete murder trial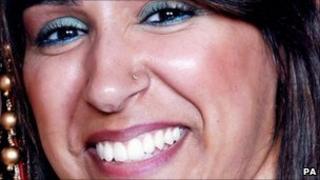 An Old Bailey jury trying four men accused of murdering a mother-of-two in a machete attack in west London has gone out to consider its verdicts.
The hand of Geeta Aulakh, 28, was severed when she was attacked in Greenford in November 2009 as she went to pick up her sons from a childminder.
Her husband Harpreet Aulakh, 32, of Greenford, who denies the murder, is accused of planning the attack.
Sher Singh, Harpreet Singh, and Jaswant Dhillon also deny the murder.
Sher Singh, 19, of Southall, west London, Harpreet Singh, 20, of Slough, Berkshire, and Jaswant Dhillon, 30, of Ilford, east London, allegedly carried out the attack on Mr Aulakh's bidding, the court heard.