Surgeon taken through London snow to St Helier Hospital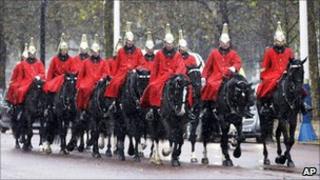 Police helped a surgeon complete his journey to carry out an emergency operation after he got caught in the snow in south London.
The doctor was to operate at St Helier Hospital, Sutton, on a patient who was critical with internal bleeding.
He had spent two hours on the journey before stopping Sgt Mark Dolice, on routine patrol in Carshalton, south London, at 0945 GMT.
Sgt Dolice used his car with sirens on to get him there in seven minutes.
He said: "The surgeon was over the moon - and was very grateful."
Epsom and St Helier Hospital Trust said it was "business as usual" for outpatients, but a small number of operations were cancelled.
The AA said London was the worst area affected on 30 November, with more breakdowns than any other part of the UK.
There was a "hotspot" of activity on the M25 between junctions 2 and 5 due to falling snow freezing on the carriageways.
Roads in Croydon, Bromley and the M25 in the around the Essex/Kent areas are badly affected and police urged people to avoid travelling by car if possible.
There are also severe delays on the Southern, Gatwick Express and First Capital Connect rail services heading to Kent and the South Coast out of London.
While some schools were closed due to the snowy conditions, the vast majority remained open.
All flights to and from London City Airport have been suspended.
There have been delays at Heathrow, Gatwick and Stansted airports.