Commuters suffer snow travel chaos at Victoria Station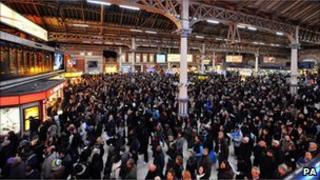 There has been major disruption at London's Victoria station as snow caused travel chaos.
Hundreds of commuters were delayed for several hours as the weather, a broken down train and signalling problems in the Croydon area severely disrupted services.
Network Rail said a much reduced service is running to Kent, Surrey and the South Coast from London stations.
The weather problems in London were restricted to the south of the city.
The AA said London was the worst area affected, with more breakdowns than any other part of the UK.
There was a "hotspot" of activity on the M25 between junctions 2 and 5 due to falling snow freezing on the carriageways.
Roads in Croydon, Bromley and the M25 in and around the Essex and Kent areas are badly affected and police urged people to avoid travelling by car if possible.
While some schools were closed due to the snowy conditions, the vast majority remained open.
All flights to and from London City Airport have been suspended.
There have been delays at Heathrow, Gatwick and Stansted airports.