'Cutting edge' central London trauma centre opens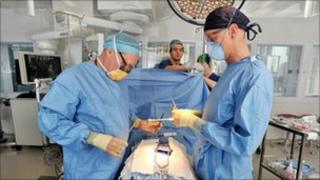 Critically injured patients will be able to receive life-saving treatment at a new major trauma centre (MTC) that has opened in central London.
Imperial College Healthcare's MTC is based at St Mary's Hospital, in Paddington.
The centre has a state-of-the-art theatre with black box technology and a 16-bed major trauma ward.
Surgeon Mr Michael Jenkins, director of the MTC, said: "The technology in our MTC is truly cutting edge."
"It will enable us to give patients with serious and multiple injuries the very best chance of survival.
"We have recruited experts in a range of specialties from across the country to work in our MTC, which will be one of only four such facilities in London," Mr Jenkins said.
Key features of the theatre include multiple cameras and screens so the surgical team has a 360 degree view of everything that is happening.
The footage can be streamed to a lecture theatre for teaching and recorded for audit purposes.
The theatre also holds a blood cell salvage machine which "cleans" the patients' lost blood before recirculating it - therefore reducing the amount of donor blood needed.
The MTC's doctors expect to treat up to 500 patients a year.