Jailed Met Commander Ali Dizaei's appeal bid adjourned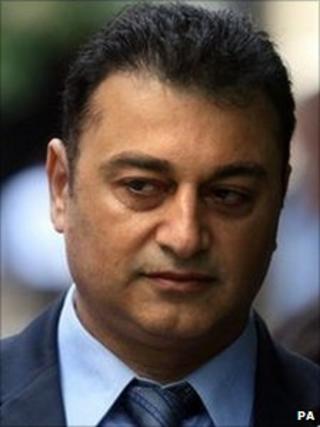 Jailed Metropolitan Police commander Ali Dizaei's appeal bid will be heard in 2011 after an adjournment was made.
Dizaei was jailed for four years in February for misconduct and perverting the course of justice after being found guilty of attacking Waad al-Baghdadi.
But it is now claimed Mr al-Baghdadi used false personal details in court.
The Court of Appeal adjourned Dizaei's renewed application for permission to appeal so his lawyers could investigate the claim.
Mr Dizaei's 24-year police career ended in disgrace when he was jailed for wrongfully detaining Mr al-Baghdadi after a row outside a Persian restaurant in Kensington, west London.
The 48-year-old's initial bid for an appeal was turned down.
However, new documents seen by BBC News suggest Mr al-Baghdadi's real name is Vaed Maleki and that he was born in Tehran, Iran, in 1983.
This contradicts statements Mr al-Baghdadi gave to the Independent Police Complaints Commission and evidence he gave under oath in court.
'Self-inflicted' injuries
Dizaei is represented by the barrister Michael Mansfield QC, who argues the evidence shows the case against him was fundamentally flawed.
Lord Justice Toulson, sitting with Mr Justice Davis and Mrs Justice Dobbs, said: "We are granting an application for an adjournment because it does seem to us that the fresh matters raised are likely to require proper investigation."
Dizaei's application for leave to appeal will now be fixed on a date after after 21 January.
If leave to appeal is granted judges will hear the conviction challenge immediately.
Dizaei was jailed after a dispute with web designer Mr Al-Baghdadi over payment for work on his personal website, alidizaei.com.
The police commander then produced handcuffs and arrested him, his trial heard.
A police doctor told the court injuries Dizaei claimed had been caused by Mr Al-Baghdadi were probably self-inflicted.