London to get 4,500 trees planted over winter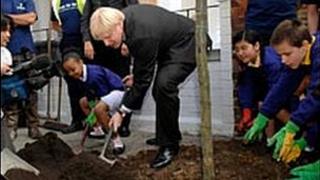 London boroughs plan to plant more than 4,500 new street trees over the winter, funded by the capital's mayor's street tree programme.
In 2008, London Mayor Boris Johnson pledged to plant 10,000 new trees by March 2012.
The new trees will bring the number of trees planted since the pledge to more than 9,500 by March 2011.
"Thanks to these trees, streets across London are leafier, more pleasant places to live in," Mr Johnson said.
"It is superb news that we are firmly on track, and actually ahead of schedule, to meet my target of 10,000 new street trees by 2012."
Barking and Dagenham, in east London, is the borough planning to plant the most trees - 631.
A total of 24 London boroughs will be planting trees this winter, funded by the mayor's tree programme.
Councils will consult consulting local residents and schools to identify areas where local people most want trees.