Babyshambles' Pete Doherty in court on cocaine charge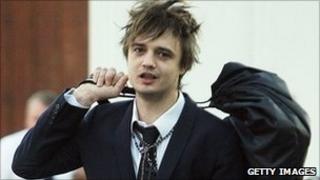 Singer Pete Doherty has appeared in court charged with possessing cocaine.
The Babyshambles star was charged following an inquiry into the death of filmmaker Robin Whitehead, 27, found dead in a flat in Hackney in January.
Alan Wass, 29, of Latimer Road, west London, was also charged with cocaine possession at Thames Magistrates Court.
Peter Wolfe, 42, of Maidstone, faces two counts of cocaine possession and one count of supplying the drug. The case was adjourned until 14 January.
Ms Whitehead, a member of the wealthy Goldsmith family, had been making a documentary about the musician when she died.
Poplar Coroners Court said no date had yet been set for an inquest into her death.