London Hamleys abandons live penguin display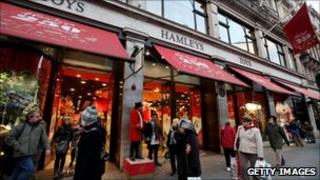 Hamleys has cancelled plans to bring live penguins into its London store after welfare concerns were raised.
Two reindeer were withdrawn from the Regent Street shop a day early on Wednesday and penguins had been due to arrive next week.
UK wild animal welfare charity the Born Free Foundation said it was shocked at the plans to have animals in the shop.
The toy store said that after listening to people's views the cancellation was the best course of action.
Earlier this week the world-famous toy store issued a statement in response to concerns raised on social networking sites about the live animals.
The store said animals had been brought into the store in the past and that they were well cared for by a highly respected and professional organisation.
The penguins would have been in an enclosure which a controlled number of customers would have been able to view at any one time.
But after continued pressure Hamleys withdrew the reindeer and cancelled plans to bring in penguins on Monday.
Will Travers, CEO of Born Free Foundation, said: "Live animals are not toys and we should not be confusing the two.
"Hamleys is the world's favourite toy store, but they were doing their reputation no good at all by contemplating a stunt with live animals."
After cancelling the penguins, the store said: "Hamleys recognises that having penguins in store has raised concerns amongst some of its customers and, as a result, we have decided to cancel their proposed appearance next week.
"Whilst we were taking every measure possible to ensure the welfare of the penguins, we have listened closely to people's views and feel this is the best course of action.
"We apologise to those of our customers who were looking forward to seeing the penguins."