Shard London Bridge becomes the UK's tallest skyscraper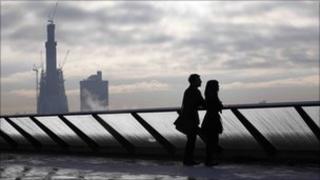 The Shard London Bridge, currently under construction, has been crowned the UK's tallest skyscraper.
The tower, designed by Italian architect Renzo Piano, outgrew previous holder Canary Wharf's One Canada Square, which stands at 235m (771ft).
When completed, the south London skyscraper will be the tallest building in the European Union.
It will eventually rise to 87 storeys, 310m (1,016ft), and is due to be completed in May 2012.
The tower will be used for a variety of purposes, including offices, residential apartments and a hotel.
It will also have a viewing platform on its 72nd floor, which is expected to attract a more than a million visitors a year.
The Sellar Property Group development is part of a masterplan, which will also upgrade London Bridge station.
Renzo Piano also designed the Pompidou Centre in Paris.