Royal wedding: special edition Oyster Card planned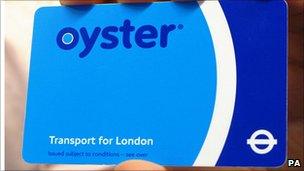 A special edition Oyster Card is to be made to mark next year's Royal wedding.
The electronic smartcard used on London's public transport system, will go on sale before Prince William's marriage to Kate Middleton on 29 April.
Transport for London said it would be tasteful and would be the first of many limited edition Oyster Cards.
The cards were launched in 2003 and more than seven million of them are regularly used by commuters.
A Transport for London (TfL) spokesman said: "One of the things we have not done with Oyster is what they have made a huge success of in Hong Kong - selling limited editions.
"Some of the limited editions of the Octopus card are worth a fortune. We will do one for the royal wedding and it will be extremely tasteful."
The marriage of William's parents, the Prince of Wales and Lady Diana Spencer, in 1981 was also marked by the transport authority of the day with a special ticket.
Related Internet Links
The BBC is not responsible for the content of external sites.