St John's Wood school hopes to house homeless pupils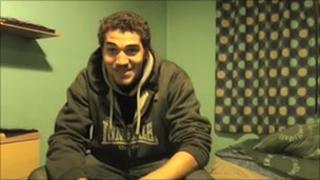 A school in London is planning to build a house for homeless teenagers.
Quintin Kynaston School, in St John's Wood, has several A-level pupils who have slept on friends' sofas or even in parks.
Its headteacher now hopes to raise £3m to fund the accommodation centre for the vulnerable students.
Jo Shuter said: "We have got young people not ready to live independently that need to be looked after and helped into adulthood."
She added: "They have got nobody else to turn to."
Vincent, 18, one of the pupils, said: "It gets to a point where you think, hang on a minute, three months have gone past and I'm still sleeping in Hyde Park.
"I still don't have a coat, I've lost two-and-a-half stone.
"What am I going to be doing in a year's time? Will I still be here?"
'Really lonely'
Vincent is currently living in a hostel.
Another pupil said of her homelessness: "I was terrified - and it's just really lonely."
A statement on the school's website said: "Every year we experience large numbers of sixth-form students who face the prospect of homelessness, and many of whom do in fact become homeless.
"Until recently these young people have been placed in local hostels in central London - unfortunately this is no longer an option for many of these students and they are absolutely desperate for some help."