Residents object to new Hammersmith Town Hall plan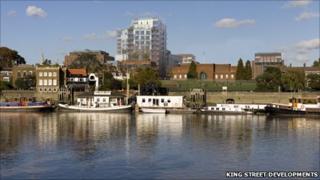 Plans for a development, including a new Hammersmith Town Hall, have been described as "excessive" by local residents in west London.
Save Our Skyline, which represents 20 residents' and local groups, said it was "ludicrous" to demolish housing for vulnerable people for luxury flats.
About 320 new homes, a new town hall, a supermarket and a square will be built as part of King Street Redevelopment.
Hammersmith and Fulham Council said the development will save £18m a year.
The development is a joint venture between Grainger plc and Helical Bar plc which is working with the council.
The proposed Town Hall will not cost taxpayers anything as the project is a public and private partnership project, the project website states.
'Ugly' town hall
Save Our Skyline, which will hold a public meeting later, said the current plans were different from the original brief in 2007 - which local people were "predominantly supportive of".
Campaigners said the "height and density of the proposed developments is excessive and out of keeping with the surrounding area".
The new supermarket was "unnecessary and will undermine local shops" and plans for a footbridge will have a "destructive impact on Furnivall Gardens and the historic riverside buildings".
The campaigners were also against plans to demolish a cinema, 1900s Cromwell Mansions and Pocklington Buildings - owned by Thomas Pocklington Trust, a charity for visually impaired people.
Save Our Skyline spokesman Nick Bastin said: "The development will cause loss of affordable housing... and replace it with luxury flats and a new supermarket which the community does not want.
"How can this be Big Society if the council ignores our views?"
He added that eight blind and other vulnerable tenants in Pocklington Buildings would have to move if the plan went ahead.
"Its ludicrous to build a supermarket in its place," he said. "We are urging the community to oppose the scheme."
Councillor Mark Loveday, cabinet member for strategy, said: "Demolishing the ugly and costly town hall extension will not only regenerate a run-down corner of the borough with new public spaces, shops, homes and offices but will save taxpayers £18m.
"The proposed supermarket is designed to complement not detract from existing business. We have spoken to many shop keepers on King Street who view this scheme as crucial to securing the long-term future of their businesses as it will encourage people to spend more time in this part of town."