Threat to sue over London congestion charge scrapping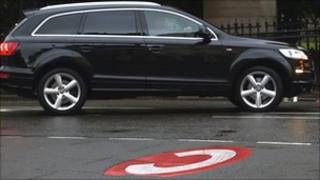 An environmental campaign group has threatened to sue London Mayor Boris Johnson over his decision to scrap the western congestion charge zone.
In a legal notice Clean Air in London asked the mayor to "delay implementing his decision until he can ensure air pollution is not worsened".
Mr Johnson has promised to get rid of the west London extension on 24 December.
His office said losing the zone will have "minimal impact" on air quality.
Drivers are charged £8-a-day when they enter central London and the western extension zone (WEZ), which was introduced in 2007.
The mayor's spokeswoman said the group's "letter before action" was received on 3 December, but it would not affect the implementation of Mr Johnson's decision announced in October.
The letter asks the mayor to "ensure air pollution is not worsened, or, delay implementing his decision until he can ensure air pollution is not worsened, or, reverse his decision".
'Populist' decision
Simon Birkett, founder of Clean Air in London, said: "The mayor's own consultation documents estimate that emissions of PM10 would increase by 3-4% on average across the WEZ area if the scheme is removed, compared with an estimate in his draft Air Quality Strategy of a 13% average reduction between 2008 and 2011 for London as a whole.
"Ambient air concentrations are much harder to reduce than emissions.
"The Mayor has chosen a seemingly populist route despite Transport for London's analysis of the traffic, environmental, revenue, economic and social impacts showing overwhelmingly negative results.
"Any legal action must always be a last resort. This is about defending and improving air quality, not defending road tax."
Mr Johnson's spokeswoman said: "The mayor was elected on a pledge to provide Londoners with a consultation on the future of the western extension zone and Londoners have repeatedly shown him they are firmly in favour of its abolition.
"The impact of removing the zone on air quality is predicted to be minimal and the mayor is pursuing measures that are more targeted at improving air quality and reducing pollution.
"In line with his promise and in accordance with the wishes of Londoners he intends to abolish the WEZ on Christmas Eve."
The group also sent a letter to Caroline Spelman, Secretary of State for Environment, Food and Rural Affairs, over the issue.