Thieves steal £1.2m Stradivarius near London Euston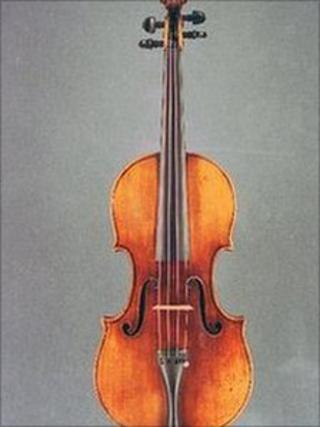 A classical musician had her £1.2m Stradivarius violin stolen in a sandwich shop in north London.
The thieves struck when Min-Jin Kym, 32, went into a branch of Pret A Manger outside Euston station last week.
As she sat down she noticed the black case, which held the 300-year-old violin and £62,000 Peccatte bow, was missing.
Insurers have put up a £15,000 reward for the violin which police said would be almost impossible to resell.
The instrument has a number of unique marks including visible repair marks under the instrument's bridge and a specially-moulded chin rest.
The Metropolitan Police's Arts and Antiques Unit has been alerted and the items registered on the London Stolen Arts Database.
Sarah Ottley, of Lark Insurance Broking Group, said: "Instruments like this are almost impossible to replace as they are so unique.
"However, this does mean they are easily recognisable by dealers or repairers.
"We would urge anyone who might be able to help us reunite the violin and bows with their owner to contact the police or Crimestoppers immediately."
The theft happened between 2030 GMT and 2100 GMT on 29 November.
Detectives believe the items could have been taken to another major city, possibly Liverpool or Newcastle.
Det Insp Andy Rose, of British Transport Police (BTP), said the violin held enormous sentimental and professional value for the musician.
He said: "Although they are extremely valuable, it would be very difficult to sell them on as they are so rare and distinctive that they will be easily recognised as stolen property.
"It's possible the instrument will be offered for sale within the antique or musical trade and we ask anyone who has any knowledge of the violin's whereabouts to come forward so it can be returned to its rightful owner."