One Direction fans injured at Wolverhampton concert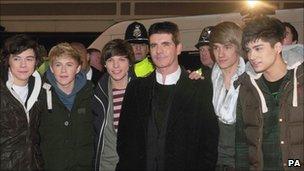 Thirty-five people had to be treated for minor injuries at a performance by X Factor finalists One Direction in freezing temperatures in Wolverhampton.
West Midlands Ambulance Service said nearly 4,000 fans had turned up at the boy band's home city's Queen Square to see the short open-air set.
A spokesman said most injuries were caused by "the effects of the cold and over-excitement".
All the injured were treated at the scene and were not sent to hospital.
The spokesman said that just before the band, which is mentored by Simon Cowell in the ITV show, took to the stage there was a "surge in the crowd".
He said a total of 28 people were lifted out over the barriers at the front. Eight were assessed by paramedics and then rejoined the crowd.
The spokesman added: "The band didn't come on stage until just before 8pm, but the first casualty was found in Lichfield Street at 4.45pm with a head injury. After treatment she was discharged at the scene.
"Another five casualties were dealt with about half an hour later. Three hadn't eaten or drunk all day, one had felt faint and the fifth was hyperventilating.
"The latter two patients also had insufficient clothing on for the conditions. After treatment, getting warmed up and eating something, all five were discharged."