Bernie Ecclestone mugging image in advert 'insensitive'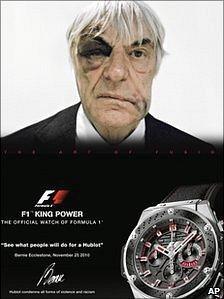 A watch advert showing Bernie Ecclestone's battered face after he was mugged could seem "insensitive", Victim Support has said.
The F1 boss was beaten by robbers who took his Hublot watch in Knightsbridge, central London, last month.
A Hublot spokeswoman said the 80-year-old sent the picture to their chief executive. They saw the "humour" and decided to use it for an advertisement.
Victim Support said the company seemed to be "making light of crime".
A spokesperson for the charity said: "Everyone reacts differently to crime.
"Although it appears Bernie Ecclestone can make light of the incident and get on with his life, for many victims of mugging the impact can be devastating, leaving them fearful to leave the house and unable to move on.
"Hublot is a luxury brand which seems to be making light of crime in order to sell a product, and this advert could be seen as insensitive to victims who are not in a similar position to Bernie."
The businessman's spokesman said this was "something Mr Ecclestone has agreed with Hublot, and it was his idea to put it as an advertisement".
Mr Ecclestone was repeatedly punched and kicked in the attack on 25 November as he arrived outside his central London office with his girlfriend.
Jewellery worth £200,000, including the £11,000 watch was taken stolen. No-one has yet been arrested.
The day after the mugging he sent his picture with a note saying "See what people will do for a Hublot" to Jean-Claude Biver.
The spokeswoman for Hublot said the men share "a certain sense of humour" and agreed to use the image and the note for a one-off advert.
Mr Biver said: "He told us, 'Please use it to make an advertising campaign because I want to show that I'm courageous.'
"It is also a protestation against violence that we are all afraid of today."
A spokesman for the Advertising Standards Authority said: "The use of pictures of victims of violent crime in advertisements is not prohibited under the advertising rules, but advertisers must prepare their ads in a responsible way and take particular care to avoid causing serious or widespread offence."
Related Internet Links
The BBC is not responsible for the content of external sites.