London Lakanal House fire charges 'still possible'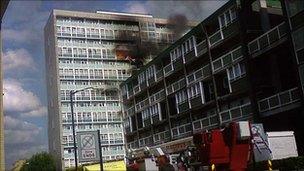 An inquest into a fire at a 12-storey block of flats in south-east London has reconvened, as it emerged criminal charges were still a possibility.
Six people died in the fire at Lakanal House, Southwark, in July 2009.
A second pre-inquest hearing was held on Wednesday at Southwark Coroner's Court to introduce replacement coroner Judge Frances Kirkham.
The Metropolitan Police told the hearing its report had been delayed and is now due by mid-2011.
The court heard it was still considered a criminal investigation.
A Met spokesman afterwards confirmed charges have not been ruled out.
But the Met's revelation of a further delay in its report dismayed victim's families.
An initial pre-inquest hearing was held in December 2009, at which police voiced hopes their investigation would be finished by June 2010.
The fresh delay means bereaved families are likely to have had a two-year wait for the inquest to begin.
Rafael Cervi, whose wife and two children were killed, told BBC London he would get answers even if he had to wait 30 years.
He said: "One way or another I am going to find out.
"I have nothing else to lose.
"Everything I had I have already lost."
Southwark Council has also called for the investigation to proceed faster.
Deputy leader Ian Wingfield said: "We have written to the coroner to let her know our concerns about the time the investigation is taking.
"Whilst we understand this is a complex investigation residents are very anxious to understand what caused the tragedy."
The council - Labour-run since a Lib Dem-Conservative coalition were ousted in May - declined to comment on the possibility of criminal charges.
The inquest granted lawyers of bereaved families permission to inspect the building for the first time.
It has been mothballed since the fire.
Previous coroner, Mr Justice Thayne Forbes, pulled out in September saying the inquest conflicted with other duties.
Related Internet Links
The BBC is not responsible for the content of external sites.