University College London granted eviction order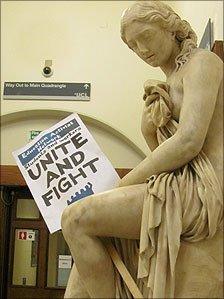 University College London (UCL) has been granted a court order to evict students who have been staging a sit-in over the proposed rise in tuition fees.
Up to 200 students have occupied UCL's Jeremy Bentham Room and part of the Slade School of Fine Art since 24 November and 30 November respectively.
Possession orders were handed down at the Central London County Court.
A spokesman for UCL said talks with the students to bring the occupation to an end were continuing.
The order gives UCL the legal right to forcefully remove the protesters but a university spokeswoman said they were "not choosing to go down that route".
In the judgement handed down by Judge Faber, she also granted the students' appeal for possession of the entire Gower Street campus.
While she did not accept their argument that ending the occupation would breach their human rights, she said a successful appeal could mean a possession order for the Slade School was not justified.
Student Frank Harris, 19, who is involved in the court case, said: "We are very pleased with our partial victory and that the judge accepted our evidence that both occupations have been peaceful and responsible, and did not disrupt academic activities."
The students face a two-week wait to find out whether they must pay legal costs of £40,000.
Kat Craig, who represented the students free of charge with barrister Liz Davies, said: "These young students have been very brave in putting themselves forward to help the court determine an important point of law.
"The judge today paid tribute to both parties for their enlightening arguments and commended all parties for the sensible way in which they have conducted themselves.
"In light of these comments we very much hope the university will decide not to enforce these costs against our clients."
Related Internet Links
The BBC is not responsible for the content of external sites.