Funds given for 125,000 Games tickets for London pupils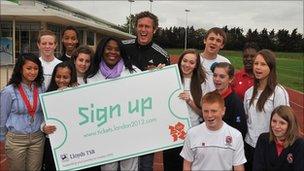 London Olympics organisers have agreed to fund 125,000 free Games tickets for the capital's school children.
In October London 2012 organisers promised to pay for 50,000 of the tickets and Mayor Boris Johnson was to find money for the remaining 75,000.
The mayor and Games organisers have now reached a deal by which all of the 125,000 tickets will be funded by the London 2012 Hospitality Programme.
Schools which join the organiser's Get Set education network will be eligible.
The Get Set programme by the London Organising Committee of the Olympic Games and Paralympic Games (LOCOG) is aimed at engaging school children with the Olympics.
Mr Johnson said: "One in eight of the capital's school kids will get to experience firsthand the planet's greatest sporting spectacle for free and, importantly, at no cost to the taxpayer.
"I hope that this offer motivates thousands of young Londoners to get out there and take up a sport."
LOCOG Chairman Seb Coe said: "We are proud of this innovative scheme which will do what we have promised to do - get young people to the Games."
Earlier, the leader of Greenwich Council, Chris Roberts, had criticised the free ticket scheme saying that seven out of eight children will be "denied that chance".
He also wanted a ticket for every child in the boroughs hosting the Games.
Three-quarters of the 8.8 million tickets available will go on sale in March.
Related Internet Links
The BBC is not responsible for the content of external sites.