First Capital Connect increases seats on rail route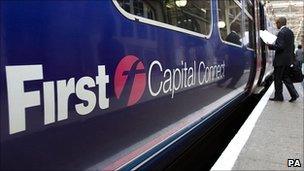 An extra 6,500 seats will be available from next week on a commuter rail route connecting London with Hertfordshire and Cambridgeshire.
It serves destinations such as Welwyn Garden City, Cambridge and Peterborough from King's Cross and Moorgate.
FCC said some evening services from Moorgate were so crowded there were "as many people sitting as standing".
Managing director Neal Lawson said that from Monday "seven additional new services will operate to or from Moorgate station, and three trains will be doubled in length".
He added: "At King's Cross there will be 12-carriage services home to Cambridge for the first time, and thousands more seats for commuters along the route to Peterborough and Welwyn Garden City."
FCC has faced criticism for severe overcrowding on its separate Thameslink route over the past two years, with a debate in the Commons about its performance and a 5,900-signature petition by commuters on the Downing Street website.
The firm said the improvements to its Great Northern route were the second phase of a programme which had already introduced another 5,000 seats to trains serving King's Cross.
Related Internet Links
The BBC is not responsible for the content of external sites.