Housing benefit cap: Councils 'move people from London'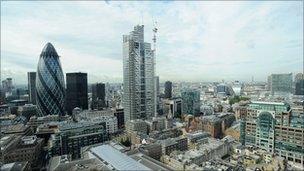 Many London councils are moving families out of the city in preparation for the government's housing benefit changes, a BBC London survey has found.
A £400-a-week limit on housing benefit for private rentals is due to begin from April 2011.
There is concern high rental prices in London will mean some families are forced to move, because of the shortage of homes within the benefit limit.
Thirteen councils say they are already rehousing people outside the city.
One of them is Waltham Forest, which is moving people to Luton.
Councillor Marie Pye said: "At the moment we are already moving people out of London because there is not enough private housing.
"We have already got some good quality accommodation in Luton and people want to move there."
Jules Pipe, the mayor of Hackney, said: "There will be more pressure on our own residents.
"Many of them will request to move out of the borough as a result of these measures."
Of London's 32 councils, 16 said they were preparing for a rise in homelessness.
Housing Minister Grant Schapps said: "We are still saying someone could have rent of £21,000-a-year paid by by taxpayer.
"How many could afford to pay that?
"What we want to do is get rid of the £30,000, £40,000 and £100,000 housing benefits cases, which are completely unfair on the taxpayer."
Related Internet Links
The BBC is not responsible for the content of external sites.