'Bloodgate' Harlequins physio in dismissal appeal bid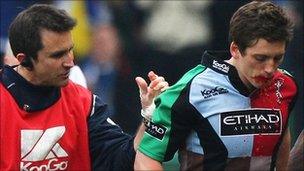 A physiotherapist struck off for helping Harlequins rugby player Tom Williams fake an injury has appealed against the "severity" of his ban.
Stephen Brennan admitted giving the player a blood capsule to bite on in April 2009 in a match against Leinster.
In September, the Health Professions Council (HPC) found that his misconduct had impaired his fitness to practise.
Brennan claims the HPC's two year ban was unlawful as it took the "one strike and you are out for good" approach.
During the HPC hearing he admitted using fake blood capsules a further four times in three years.
Brennan's counsel Paul Harris said his client accepted he would face sanctions for his behaviour but described the panel's ruling as one of "gross severity".
He added that the decision was based on flawed reasoning by the HPC's conduct and competence committee.
Mr Harris told Mr Justice Ouseley the penalty "could not possibly have been proportionate".
"This case does not even come close to that severe sanction.
"We do say that Mr Brennan does merit sanction, but the issue here is the gross severity of one strike and you are out for life. It is a sanction of last resort," he said.
Brennan was due to begin work with the Rugby Football Union as an England physio before this incident. Since the ban he has carried on working in private practice.
Ruling on the case in September the HPC said: "The dishonesty... continued over a number of years and ended not as a result of his own volition, but only because of the player's (Tom Williams') subsequent admission.
"It is the sanction... necessary for the public and other professionals to understand that behaviour of this sort is unacceptable."
Harlequins were losing 6-5 in the 2009 Heineken Cup quarter-final in 2009 when Tom Williams bit a fake blood capsule.
Following the supposed injury a specialist goal kicker was brought on to the pitch as a substitute in the final minutes of the game.
Mr Brennan admitted giving players fake blood capsules on three occasions for the players' welfare and the fourth time to get a player on to the pitch after a team-mate had been sent to the sin-bin.
Related Internet Links
The BBC is not responsible for the content of external sites.