Poorest London boroughs face deep funding cuts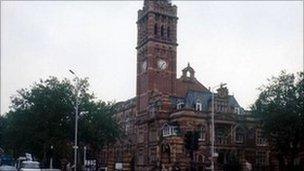 Some of the poorest London boroughs are facing the deepest cuts in government grants to English councils.
East London's Newham, Tower Hamlets and Hackney face cuts of 8.9% in 2011/2012.
London Councils chairman Jules Pipe said "no combination" of cuts would be able to protect services.
Communities Secretary Eric Pickles said the poorest boroughs in London were not as severely affected as they otherwise would have been.
Other London Councils facing deep cuts include Islington at 8.78%, Haringey at 7.9%, Greenwich at 7.72% and Lambeth, 7.7%.
The lowest cuts announced are to Richmond-upon-Thames at 0.61%, Havering, 1.71% and Harrow at 1.96%.
Kensington and Chelsea face cuts of 5.26% and Hammersmith and Fulham 6.56%.
On Monday, Mr Pickles announced an overall 9.9% cut in government formula grant funding in 2011/12, followed by a 7.3% fall in 2012/13.
The fall in formula grant, which is the main grant councils receive from central government, means local authorities could see a cut in their spending power of 4.4% next year and a drop of more than 8.9% for any of the next three years.
The formula grant excludes funding for education, public health, and transport and income that councils get, such as council tax.
Mr Pipe, who is also the Mayor of Hackney, said: "London's councils are already planning for improved efficiency, shared services and new approaches to service delivery.
"The scale of these reductions is so large that no combination of these is sufficient to protect the services that Londoners expect to be funded."
Labour MP Stephen Timms, whose constituency of East Ham is in Newham, said to Mr Pickles: "Given what you have said about fairness, why is it looking through the list of the London borough graph changes that the biggest losses in absolute terms and in percentage terms are in local authorities where the levels of disadvantage are the greatest."
Mr Pickles said a change in the funding system meant that the poorest boroughs in London were not as severely affected as they otherwise would be.
He added the boroughs of Newham, Tower Hamlets and Hackney have been given transition grants totalling about £15m to help them cope with the change.
The cuts follow the coalition government's spending review plan, unveiled in October, to reduce funding by 28% over four years to reduce Britain's budget deficit.
The independent London's Poverty Profile says Newham, Tower Hamlets and Hackney have some of the highest levels of poverty, deprivation and people seeking benefits in the country.
Related Internet Links
The BBC is not responsible for the content of external sites.