Vote backs closing Ilford's King George Hospital A&E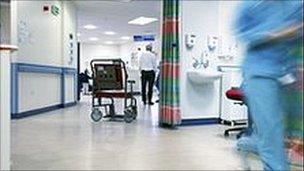 The pregnancy and accident and emergency (A&E) unit at King George Hospital may close following a vote by health experts.
Local Primary Care Trust (PCT) members and GPs decided to shut both departments at the hospital in Ilford.
The plan is intended to free health resources to benefit the local area.
Many people living in Ilford claim that if the changes are approved they will have to take up to three buses to reach an A&E department.
If the closure at King George Hospital is approved, A&E and maternity services would be transferred to Queen's Hospital in Romford, Essex, and Whipps Cross in Leytonstone, east London.
Both are about four-and-a-half miles away.
The proposals also include creating a urgent care centre at King George Hospital.
Local doctors say the move will help ensure senior, experienced clinicians are available to treat the most seriously ill patients every hour of the day, every day of the week.
Dr Mike Gill, who works at Newham Hospital and is in favour of the changes, said they would improve care for patients overall.
He added: "We would have to develop the urgent care centre at King George and make sure the public have their confidence in it before we move services over to Queens."
The vote for closure is the first stage in the process.
The plan must now be considered by NHS London to ensure proper processes were followed.
It could then fall to Health Secretary Andrew Lansley to have the final say.
Andy Walker, Labour councillor for Redbridge, promised to fight the plans all the way to a possible final ruling by Mr Lansley.
He said: "I can't see this working because people will know this urgent care centre is going to provide a second-rate service for the people of Redbridge."
Up to 20 people took part in a demonstration outside Stratford Town Hall before the public meeting began.
On Tuesday A&E and maternity services shut at Queen Mary's Hospital in Sidcup and the same services at Chase Farm Hospital in Enfield are listed for closure.
Related Internet Links
The BBC is not responsible for the content of external sites.