London Underground: Boxing Day strike 'breaks word'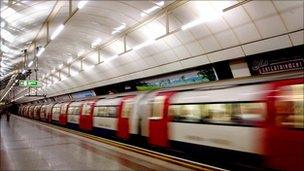 London Underground (LU) says it has proof unions would be breaking their word if Tube drivers go ahead with a Boxing Day strike.
The union Aslef is threatening action because LU does not offer extra pay to drivers on 26 December.
LU has provided documents showing in 1996 Aslef agreed to work some bank holidays in return for higher pay and 6.8 weeks of holidays.
Aslef replied that drivers were forced to work more bank holidays since 1996.
Howard Collins, LU's chief operating officer, said: "It's disgraceful Aslef should try to hold Londoners and London Underground to ransom in this way.
"We have a long-standing agreement which all trade unions are signed up to and which we have published today, and Boxing Day is included in that agreement.
"To tear that agreement up and seek to disrupt the festive period for Londoners in this way is just cynical."
The union wants its members to be paid triple time and given a day off in lieu of working Boxing Day.
An Aslef spokesman said of the 1996 agreement: "In those days staff generally worked one in five bank holidays.
"This year, because of increased service, people are now working every bank holiday.
"They will be calling Christmas a normal working day next."
Tube services have been disrupted in recent weeks by a series of strikes in a separate row over jobs.
Related Internet Links
The BBC is not responsible for the content of external sites.