Ealing police knife attacks suspect questioned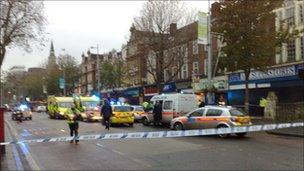 Detectives are continuing to question a man after two police officers were stabbed as they carried out checks on bus tickets in west London.
A police constable, 23, who suffered a neck wound and underwent surgery, is in a serious but stable condition.
A police community support officer has been discharged from hospital. The officers were attacked at a bus stop in New Broadway, Ealing, on Wednesday.
A 30-year-old man arrested at the scene remains in police custody.
A knife was recovered by officers following the attack.
It is thought they were attacked after it emerged one of the passengers on the bus was wanted for recall to prison.
Film-maker Michael Winner, who is the chairman of the Police Memorial Trust, called for arming officers.
"The police are not equipped and I have put up memorials to 44 slain police officers.
"It is almost certain that at least 38 of those would be alive had they been armed and they would not have wives without a husband, children without a father or mother, [and] mothers without a son."
But Peter Smyth, chairman of the Met Police Federation, said: "A lot of police officers don't want to be armed. We don't want a call to arms, I don't think that's necessary."
Earlier London Mayor Boris Johnson said: "Obviously I feel it's completely appalling that two officers have suffered in the way that they have.
"But it simply reminds us, here in London, of the bravery of the police and the way every day they put themselves in the path of danger to help to make our streets ever safer."
Ch Supt Andy Rowell commended the officers for their actions and commended members of the public who came to their aid.
The constable and the 27-year-old police community support officer, who was stabbed in the head, were attacked after challenging a man.
One witness said he had seen two policemen "sprinting to the back of a police car to retrieve a green first aid kit.
"They rushed back to assist a policeman who had blood on him. I then noticed another policeman who was walking slowly and then collapsed on the pavement. His arm fell to his side."
Councillor Julian Bell, leader of Ealing Council, described it as a "truly shocking incident".
Related Internet Links
The BBC is not responsible for the content of external sites.