Postman arrested after Christmas parcel haul found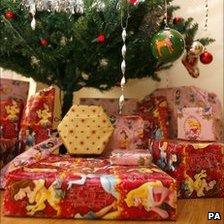 A postman has been arrested on suspicion of stealing thousands of pounds' worth of Christmas presents he was supposed to have delivered.
On Tuesday night, detectives raided a flat on Cedar Road in Sutton, south London, where about 100 stolen parcels were being hoarded.
Gifts that had been opened included MP3 players, sat navs, headphones and trainers.
A man in his 30s, was arrested on suspicion of theft.
A woman in her 20s, who was arrested for handling stolen goods. Both have been bailed.
The presents were found stacked up in a bedroom and scattered across a bed at the flat.
Police believe many of the parcels had been stolen as recently as over the last week.
Some were in transit from internet suppliers to customers while others had been sent between family members and friends.
A Metropolitan Police spokesman said: "This has all happened so quickly that people are unlikely to know that their gifts are missing.
"We hope that they will now arrive in time for Christmas."
Related Internet Links
The BBC is not responsible for the content of external sites.