Tuition fees demo wheelchair claim investigated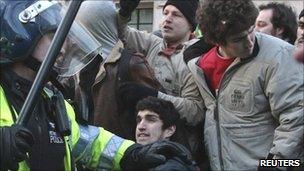 The Metropolitan (Met) Police is to investigate a man's claim that he was twice removed from his wheelchair during a rally against tuition fees.
Jody McIntyre said he was hit with a baton and carried from his wheelchair, and was later dragged across a road in central London on 9 December.
"Disturbing" video footage accompanied his complaint, the Independent Police Complaints Commission (IPCC) said.
It will supervise an inquiry by the Directorate of Professional Standards.
Mr McIntyre, 20, alleged he had been discriminated against on the basis of his disability, added the IPCC, which is the watchdog for police forces across England and Wales.
On Tuesday he told the BBC he was "100% not a threat to anyone" during the demonstration.
"There is no doubt that this footage is disturbing," said the IPCC's commissioner for London, Deborah Glass.
"It is right that is should be thoroughly investigated, both for Mr McIntyre and in the wider public interest."
Inquiry 'progressing well'
The IPCC has now received 66 complaints from people who said they had suffered significant injuries at the hands of the police last Thursday.
A further 45 complaints had been lodged about events at the three previous protests about the increase in tuition fees in England, which were held in central London on 10, 24 and 30 November.
Most of these involved the Met but 11 involved officers from Avon and Somerset, Greater Manchester, Northumbria, Sussex and West Yorkshire, who were involved in policing the demonstrations.
The IPCC said it was "progressing well" with an investigation into whether Middlesex University student Alfie Meadows, 20, suffered a serious head injury after being hit with a truncheon last Thursday.
The watchdog's investigators were checking CCTV footage and trying to contact witnesses, it said.
In addition, the mother of a 15-year-old girl had alleged her daughter suffered a broken foot during the rally on 24 November, while a woman said she was struck over the head with a truncheon on 30 November, it added.
Related Internet Links
The BBC is not responsible for the content of external sites.